FREE Life Coaching Classes with April Mason
Sunday, January 5, 6pm to 7:30pm
Covenant Worship Center
                         THIS IS NOT A WOMEN'S ONLY EVENT ALL ARE WELCOME
---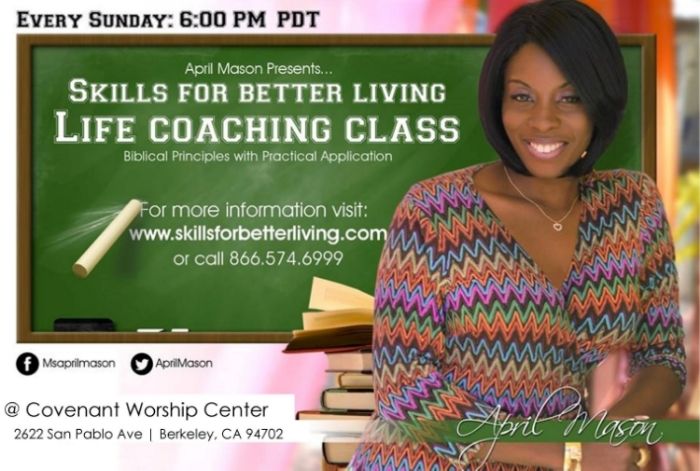 Join Author, Entrepreneur, International Speaker, Community Activist, Evangelist April Mason as she shares biblical truths with practical applications to enrich your life!
You will learn keys that will help you: heal from the past, life skills, becoming self-sufficient, having healthy relationships, singleness, entrepreneurship and much more!
These FREE Life Coaching Session are sure to inspire you to be more and do more! Living the life that God has designed for you; starts with making the CHOICE to change!  Invite your family, friends, co-workers, strangers etc… to come out and fellowship with us. 
For more information about April Mason please visit:
www.aprilmason.com | www.singlenomoreonline.com |  www.aprilmasoninc.com
Let's Connect!
www.facebook.com/msaprilmason2 | www.facebook.com/msaprilmason 
| www.facebook.com/aprilemason |www.twitter.com/aprilmason
Registration
Register now
Sunday, January 5
6:00pm to 7:30pm PDT
Covenant Worship Center
2622, San Pablo Ave
Berkeley, CA, 94702
Event registration powered by Guestlist.
Learn more